Tired of looking tired?
Bourjois Healthy Mix Anti-Fatigue foundation guarantees a healthy glow, rested and natural. Its blend of vitamins C, E, and B5 instantly erases imperfections and signs of fatigue while enhancing skin radiance for a fresh complexion. Your skin will be 70% more radiant than bare skin for up to 16 hours and will stay hydrated for up to 24 hours. What's more, its non-comedogenic formula won't clog pores. When you need the results of restful sleep without sleep, wake up your face with Healthy Mix Anti-Fatigue Foundation.
Its melting texture merges perfectly with the skin and offers both flexibility and comfort.
Make Bourjois Healthy Mix Anti-Fatigue foundation your new secret weapon for a guaranteed healthy glow!
HOW TO USE:
Use your fingers or a sponge to apply the foundation.
Apply the foundation to the center of your face.
Blend the formula outward and upward for a flawless finish while erasing imperfections.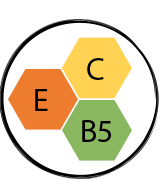 Vitamin concentrate

Anti-fatigue effect